TECHNOLOGY REMOVAL in Monroeville and PittsburhgH, PA
Electronics such as televisions, printers, and computers monitors can be damaged easily or may lose its efficiency as it starts to age. Many electronics contain chemicals and other materials that must be disposed of according to specific rules and procedures. If proper care is not taken when discarding such appliances, it may become harmful to animals, humans and the environment. Recycling these appliances in the right manner helps in reducing pollution and may save you from being fined. Pittsburgh Junk Removal enables you to get rid of such junk in a proper and efficient manner at an affordable price.
Electronics REMOVAL MADE EASY
When you need technology removed from your home or office, contact our junk hauling experts to get rid of the trash in no time. We provide the best junk removal services all over Monroeville and Pittsburgh, Pennsylvania. 
Our expert professionals make the process of getting rid of TVs, DVD players, computer machines, microwaves, and old phones simple and quick. Our customer service representative give you a free and transparent estimate of the cost of discarding your waste before we start our job,
Whether you have your office filled with old electronics or just a few in your home, we are there to help. Our experienced crew knows the disposal rules and procedures that are to be followed and ensure you that your items will be disposed of abiding by local and state regulations.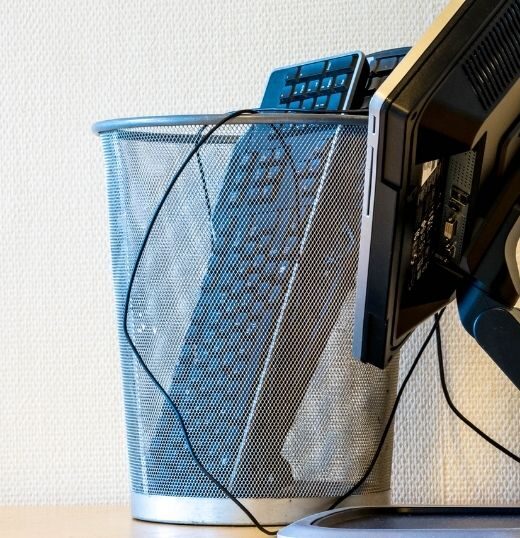 HASSLE-FREE ELECTRONIC WASTE DISPOSAL
Some old electronic devices — such as air conditioners, heating units, old VCRS and box television sets — take up valuable space in your house. Additionally, these devices may contain hazardous materials inside them and dumping them openly in landfills poses a severe threat to the environment. 
It is always recommended to have an expert to get rid of such junk as you may get fined if they are not appropriately disposed of according to the rules. We are there to provide you with assistance and to dispose of these items following all procedures. 
Contact us now to remove your electronic waste, home appliances, and hot tubs without making a threat to the environment. 
Our business runs out of Monroeville. but we also haul away electronic and technology junk from the following areas north and east of the Steel City:
Murrysville
Penn Township
Plum
Penn Hills
Oakmont
Fox Chapel
North Versailles
Forest Hills
Churchill
Shadyside
North Oakland
Duquesne
Munhall
Natrona Heights
Indiana Township
Edgewood
Wilkinsburg
Trafford
Springdale
Verona
New Kensington
Lower Burrell
Homestead
West Mifflin
Cheswick
Harwick
Tarentum
Blawnox
Aspinwall
East Pittsburgh